Ginger Paste Making Machine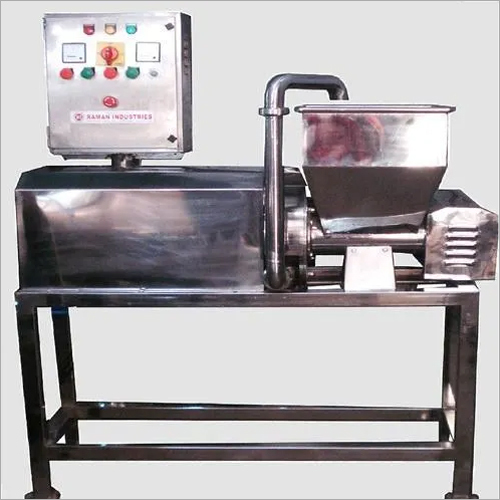 Ginger Paste Making Machine
Product Specifications
For Making Paste.

Stainless Steel
440 Volt (v)

7*3*5 Foot (ft)
High Efficiency, Low Noice
Product Description
MCP-15,20 -This High Performance Multi Cut Processor suitable to reduce the particle size for a final paste or liquid products.
MCP-15,20 Machines offers the ideal solution for any type of applications involving soups, pasta sauces, Nuts and almonds grinding, Emulsions, Liver Pate, Meat & Cheese Emulsions, Yogurt, Mayonnaise, Fish Products, Rice, Vegetables i.e Ginger Garlic and leave vegetables, Baby-food, all types of both ready-made meals and processed cheese and last not least meat/sausages.
The unique Multi cut process principle and the circulation unit allow mixing, fine cutting and emulsifying processes in one machine.
Main Features:-

Product entry via Hopper
Variable Speed Feeding Spiral, powered by separate gear motor
One fine cutting set ( Optional:- Cutting set available in different Size. 0.2mm, 0.4mm, 0.6mm, 1 mm.
Extra wide product exit to the bottom side with Circulation line.
Heavy duty Stainless Steel 304 Structure & frame.
Star-delta starter.
Cooling unit for working chamber.
Maintenance free main motor..